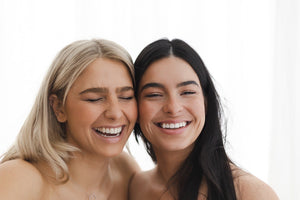 Meet Sophie & chiara
We met during our bachelor studies in Amsterdam and quickly became friends. During the vacations there was always a difference between us. As one would easily get sun burns with no tan results and would therefore protect her skin with SPF, while sitting in the shade. The other would use a tanning oil in the sun with the motto today a sunburn is a nice tan tomorrow. However, after some time little sun damages appeared on her skin. A new reality set in, where we both would watch out and protect our skin from the damages of the sun. We noticed that not all our friends are aware of the potential damages and risks that come from the sun. So, we wanted to spread the word and protect them!Over the last years we have been using self-tanning products in order to protect our skin. However, these products would quite often irritate the skin due to lower quality ingredients and in some cases even toxic ingredients that dry out the skin. Furthermore, most self-tanning products contain a guide color, leaving stains on the clothes and bed sheets. It seemed like there was no win-win situation where a nice golden glow was achieved without any damages or irritations to the skin. And that is how ROQUEBRUN. was created.​ GO SUNLESS!
our mission
The mission of ROQUEBRUN. is to inspire people to go sunless and to protect themselves against the damaging effects of the sun, without losing their perfect tan.
​As more and more people are experiencing the negative effects of the sun with skin damages or even disease, the ROQUEBRUN. face and body serums provide the solution! 
Welcome to your first step of going sunless, as you can now achieve a perfect tan without the damaging effects of the sun!
​ROQUEBRUN. is a way for you to tan sunless.